Shopping Cart
Your Cart is Empty
There was an error with PayPal
Click here to try again
Thank you for your business!
You should be receiving an order confirmation from Paypal shortly.
Exit Shopping Cart
| | |
| --- | --- |
| Posted on June 25, 2017 at 12:05 AM | |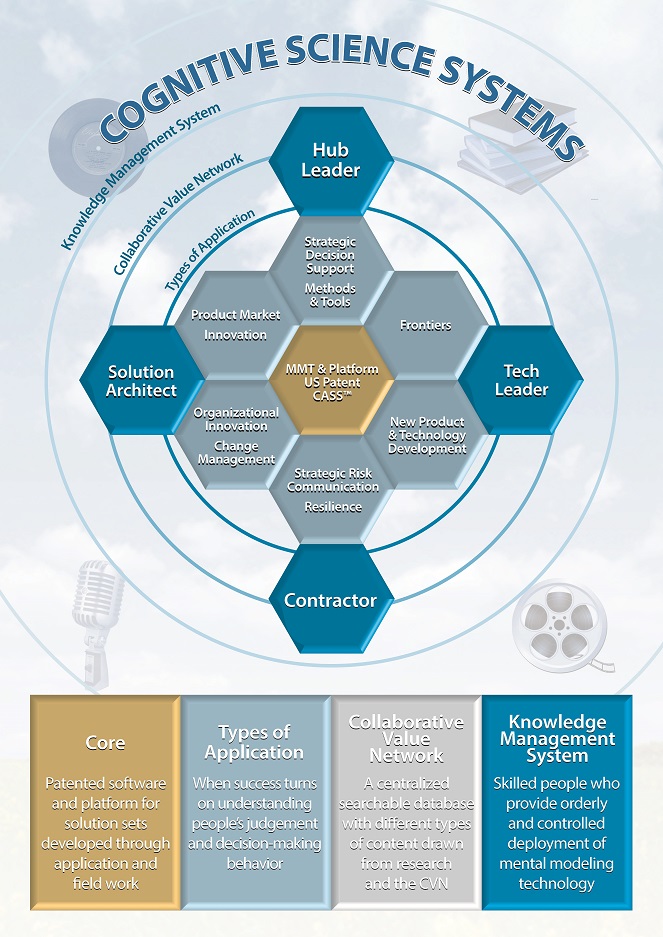 Cognitive Science Systems is a decision support framework using Mental Models Method and System that can be applied to many different situations to reduce the risk of poor outcomes and increase the opportunity for planned success. It's made up of four elements: The Core, Types of Application, the Collaborative Value Network and the Knowledge Management System. A little about each element:
The Core
Consists of a combination of human and machine technology. The human expertise applies specialized protocols in facilitated environments. The machine technology is a patented software and platform for solution sets that has been developed through application and field work.
Types of Application
The platform can be used wherever strategic decision-making takes place. It includes methods and tools to cut through challenging situations and difficult decisions. It has been used for product market innovation, organizational innovation and change management, strategic risk communication, stakeholder engagement, and developing new products and technology.
Collaborative Value Network
The network comprises linked individuals and organizations that together develop and deploy one or more technologies. With a focus on designing, building and supporting sustainable solutions in primary business processes, CVN members are engaged in a broad range of activities in organizations of all kinds.
Knowledge Management System
Tapping the new developments of the Collaborative Value Network, the latest developments are located in the Knowledge Management System and made available to others according to defined permissions. Knowledge of all sorts – documents, recorded interviews, music, images, video – are stored there to be accessed by those who can benefit.
The Mental Models TechnologyTM Platform core technique represents a simple system of four basic steps beginning with the analysis of an application problem or opportunity:
1. Solution design and valuation of the solution
2. Preparation of strategic management tools
3. Research to discover and characterize factors influencing judgement
4. Design and testing of strategies and communications devised from research insights.
Over the past 25 years, researchers at Decision Partners LLC and their colleagues in academia have used the mental models approach to address challenges presented by lay-people's understanding of complex topics, issues and processes. This work, and other research, has shown that to change people's beliefs and behaviors, one must understand and change their mental models.
Categories: None
/