Shopping Cart
Your Cart is Empty
There was an error with PayPal
Click here to try again
Thank you for your business!
You should be receiving an order confirmation from Paypal shortly.
Exit Shopping Cart
| | |
| --- | --- |
| Posted on July 11, 2017 at 9:10 AM | |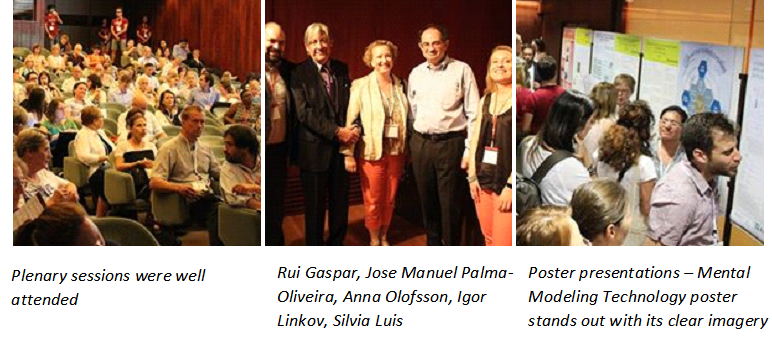 The Society of Risk Analysis – Europe hosted its 26th Annual Conference in June 2017 in the wonderful city of Lisbon with the theme "New Challenges, New Threats: Resilience and Adaptation in a Risky World". Attracting 212 attendees from 32 countries, there was lots to talk about. As a first time participant, I was keen to hear as many presentations as I could and meet people to discuss the different issues.
SRA is an intersiciplinary society that addresses emerging issues in risk analysis, management and policy. It operates worldwide and encourages those interested in all aspects of risk analysis to commnunicate, collaborate and develop new methodologies for risk analysis and risk management. As a result, the conference included issues relating to industry challenges, different functional approaches to risk, generic frameworks and risk communications.
The opening Keynote was delivered by Professor Gerd Gigerenzer, Director of the Max Planck Institute for Human Development and Director of the Harding Center for Risk Literacy in Berlin. His topic was "Risk Literacy and Health". Using a number of compelling examples, he illustrated how risk statistics are commonly misapproporiated, delivering predictions using incompatible but striking measures. Health organizations and industries exploit innumeracy to make small benefits of treatments or screenings appear big and their harms appear small. The best solution, he said, was to make children and students risk literate. By promoting risk literacy in health, more lives could be saved than by using expensive screenig programs and big data.
Josh Greenberg chaired a session on "Addressing Challenges and Opportunties for Vaccination Uptake". Josh is with the School of Journalism and Communication at Carleton University in Canada. He presented an anlysis he did of the measles outbreak at Disneyland in late 2014 to show how media shapes how we experience, understand, and imagine our shared vulnerability to infection and disease. He focused on how outbreak narratives inform public understandings about vaccination and disease. Cindy Jardine, a Canada Research Chair from the University of the Fraser Valley, discussed immigrant and refugee specific policies and how important they are given the higher rates of vaccine preventable diseases for these groups. Risk communication takes on very different messages when addressing these groups.
Anna Olofsson from Mid-Sweden University opened a session on "Multi-Actor Approaches in Risk Analysis, Management and Governance" with a remarkable presentation on the feminist approach to Arctic policy. Feminist risk theory was developed to overcome the dividing lines of risk research and intersectionality. It highlights the need for analysis of the impact of risk not only from the perspective of individuals subjected to it, but also from a perspective that acknowledges the power dimensions that take place in the process. Their analyses show the Swedish strategy adapts to and uses the dominant discourses about risks, and demonstrates 'masculine fantasies' which are embedded in the policy.
Manon Racicot of the Canadian Food Inspection Agency presented a new risk assessment model that had been developed based on research with member organizations. The model was developed to quantify the risk associated with food establishments based on their impact upon consumers' health in Canada. The assumption is that resources should be focused on the areas with the greatest need. This new approach uses risk factors developed and measured using robust methodology allowing CFIA to identify the locations that need regular inspection. The model has been tested in meat/poultry and dairy establishments and is currently being piloted in other commodities.
Margot Kuttschreuter, from the University of Twente in the Netherlands, gave an interesting keynote on "Social Media and Serious Gaming in a Risky World: Opportunities and Challenges". This presentation started out with the assertion that a lot of risk communication doesn't work. This intrigued me as a starting point. She was looking at ways to use social media channels and serious digital gaming methods to deliver risk-related messages in a different way. A lot of research has been done in gamification, and she was looking at how to take advantage of that to improve risk communications. Her research determined that a good game needed to be fun, have good graphics, provide incentives and feedback on performance. It has been used to deliver knowledge in health sciences with some success, but had mixed results in attitude and behavior change.
In this last presentation, as well as several others, I noted an absence of target market definition. In determining effectiveness of any communications strategy, the definition of the target market determines the channel options available. It also starts to determine what the key messages might be. And that hypothesis can be tested using mental modeling techniques to learn about the deep-rooted beliefs different segments embrace. From that, the type of information each group needs can be defined and carried over into specific key messages. Messages and channels selected for segments in greatest need will improve the effectiveness of strategic risk communications.
Categories: None
/